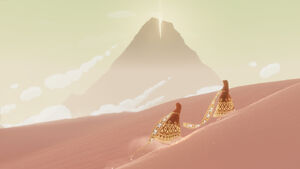 If connected to the Playstation Network while playing
Journey
the player will come across fellow travelers called
companions
. They will only be identified by a small symbol that they can broadcast by pushing

Circle. At the end of the game, all companions that you meet will be listed next to their symbol.
If the player walks near a companion, both Travelers' scarves are rejuvenated. The experience of the companion can also identified by their robe, since each time the game is completed the player's robe gains a design. Some elements, such as Ancient Glyphs, can be found by a companion but will still count for your trophies. You can receive the Reflection trophy by meditating for 20 seconds with a fellow companion. (To meditate, push Select, Start, or don't touch the controller for 40 seconds.)
During the game, the players can communicate with each other by the use of visual and sound cues that each player can create. Also, at some points in the game the user can draw in the sand to transmit a message. 
Once the game is completed, there will be a list shown of all the companions you met throughout your playthrough.
Notes
Ad blocker interference detected!
Wikia is a free-to-use site that makes money from advertising. We have a modified experience for viewers using ad blockers

Wikia is not accessible if you've made further modifications. Remove the custom ad blocker rule(s) and the page will load as expected.