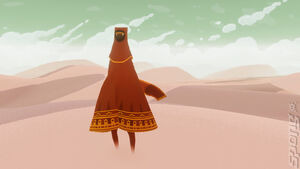 Your robe can be embroidered to show your experience at Journey. Each time you fully complete the game, your robe has a new pattern added to it. You must not skip any levels to reach the next pattern.
Embroided Hem—Completed the game once.
Second Embroidery—Completed the game twice.
Third Embroidery—Completed the game three or more times.
Ad blocker interference detected!
Wikia is a free-to-use site that makes money from advertising. We have a modified experience for viewers using ad blockers

Wikia is not accessible if you've made further modifications. Remove the custom ad blocker rule(s) and the page will load as expected.