Game Developer's Conference (GDC) is the world's largest and longest-running gaming professionals industry event. The conference contains 400 lectures, panels, tutorials and round-table discussions on a comprehensive selection of game development topics taught by leading industry experts. GDC 2013 begins March 25th and lasts March 29th.
This year, Journey will featured in a panel session, focusing on the method acting and interactive storytelling. The summary can be found below. We would like to ask, is there any elements or details of this session that you would be interested in getting more information about? How about any questions that you would like answered? Let us know in the comments: we will be attending this session, and can help gather the answers you seek! 
Designing Journey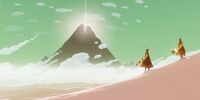 It took thatgamecompany three years to develop a two-hour long video game. Many high-level experimental ideas were tested and failed, and many lessons were learned during the design and production of the game. 12 months have passed since the game was launched, and we would like to share what we learned with you. This talk will give you the insight into the process thatgamecompany took to come up the original concept for Journey, how we polished and executed the design to realize an emotional arc, and most importantly, the difficult lessons we learned throughout the process.